Fibre Broadband In Water Project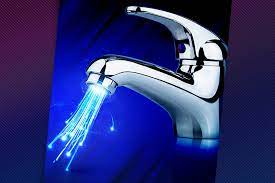 South Yorkshire's 'Fibre In Water' trial
A pilot project is underway in Yorkshire with the aim of delivering gigabit boadband to rural communities by feeding fibre optic cable through the drinking water pipes between Barnsley & Penistone in South Yorkshire.
The traditional method of digging up roads and installing new ducting can make up four fiths of the cost of a gigabit broadband network. Ultimately the Yorshire fibre in water scheme will enable a greener, faster and cost effective way of providing connectivity to 8,500 homes and businesses throughout the area.
The 'Fibre In Water' network will be used to connect 5G masts to to rural communities where wired solutions are too expensive to deliver. The digital infrastructure minister Julia Lopez has stated "We're committed to connecting homes and businesses across the country to high speed relaible broadband and this cutting-edge project is an exciting example of the bold measures this government is leading on to help communities access the very best digital connectivity,"
The trial is the first of its kind in the UK and could be providing connectivity to people's homes as soon as 2024. If successful, the project will likely be replicated in other parts of the country, according to the Department for Digital, Culture, Media & Sport (DMCS). This could assist the government's £5bn Project Gigabit, cited as the biggest broadband roll out in British history, which aims to provide gigabit connections to millions of rural homes and businesses.
In addition to providing gigabit broadband, the trial will also explore how fibre can help water utility companies detect leaks, operate more efficiently and lower the carbon cost of drinking water. In the UK, a staggering 20% of water within the public supply systems is wasted due to leaks. With current technology, it can be difficult for water companies to quickly identify the exact location of a leak and carry out a repair, DCMS said. The overall project aims to help UK water providers deliver a 50% reduction in leakage.
The first phase of the project will focus on the legal and safety aspects of the solution as well as ensuring that combining clean water and telecoms services in a single pipeline is safe, secure and commercially viable.
More information can be found on the government website here https://www.gov.uk/guidance/fibre-in-water-improving-access-to-advanced-broadband-and-mobile-services-via-drinking-water-mains
What benefits does fibre over water bring to rural based businesses?
Superfast fibre broadband delivered via traditional methods or via the water drinking pipes enables small businesses to utilise cost effective cloud based services such as VoIP phone services, online storage, hosted email & backup services. This subsequently means businesses can be far more productive no matter their physical location (rural or just far off the grid) and compete with businesses that already have good fibre connectivity.
If you need any advice in respect of your connectivity get in touch david@phoenixcommunications.co.uk or call 0800 107 9444