Working from home during the COVID-19 Coronavirus outbreak
The situation relating to Coronavirus (Covid-19) is unprecedented and we are all feeling the impact. My thoughts go out to all customers, colleagues and their families affected by the virus.
Telephony and internet connectivity are classed as key services and hence Phoenix Communications will be continuing to trade and support our clients throughout this difficult time.
Following on from our previous update and Monday evenings announcement by the government to stay at home and if possible work from home our customer support calls and requests have significantly increased. We have subsequently been busy helping our customers set up call diverts, amend voicemail recordings, enable softphones and giving guidance on how to use office Cloud IP Phones at home.
If you need help or free advice regarding any of the above please get in touch and we will do what we can to help you.
Using an IP Phone at home
Just to recap if you are an existing cloud telephony user the simplest way to retain office functionality is to take your existing IP phone home with you. Simply by unplugging your IP phone, putting it in your bag and then connecting it to your router at home, it will work as if at the office with the same number/extension number. You can then make & receive calls, transfer calls, appear in the same hunt groups and perform all the tasks that you could do at the office, whilst presenting out your office number.
Using Cloud Phone Mobility APPs at home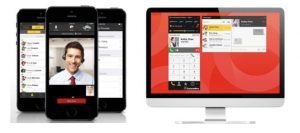 It might not be possible to take your desk phone home with you. In which case you can install a Softphone APP on your computer, smartphone or tablet. A softphone is a phone that lets you make calls over the Internet from a computer or other smart device. The software acts as a phone interface, allowing you to dial numbers and carry out other phone related functions using your mouse and keyboard.
All you need is an Internet-enabled device with the APP installed on it and a mobile softphone licence and you're ready to start making and receiving calls.
Mobile Broadband contracts have been reduced to 1 month. Many operators, ourselves included, are offering mobile data packages for 1 or 3 months so you can help your home workers over what is, hopefully, a short term issue.
If you need advice or would like to discuss ways in which to keep your business operating through these challenging times please email us or call 0800 107 9444.
Finally I would like to add we are all clearly worried for our businesses, hoping we can survive the storm. In these difficult times I believe we all need to get together and be there for each other whatever our business size or industry. We will be connecting with our clients, colleagues and friends via Zoom online meetings over the coming weeks. We hope to see u online.
In the meantime keep safe!
Warmest Regards
David
David Jones
Phoenix Communications
t: 0800 107 9444